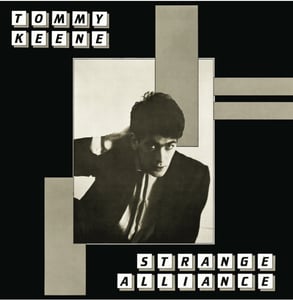 $

14.50
(BACK IN STOCK - THANK YOU DEAR DISTRIBUTOR FOR YOUR RETURNS!)
In the annals of American power pop / independent music, Tommy Keene is Zelig-esque figure of sorts. He's been name checked by DC punks and in the pages of George Pelecanos novels alike. He won a Village Voice Pazz & Jop Poll back when there was an actual category for EP's. He's played guitar for Paul Westerberg's touring band and done the same for Robert Pollard (with a subsequent collaboration album). He was on "120 Minutes" before Matt Pinfield hosted (but after Peter Zaremba), starred in a major motion picture alongside Anthony Michael Hall and Siouxsie Sioux, and holds the distinction of being one of the only artists who can claim to have once been labelmates with Guns'n'Roses and Thinking Fellers Union Local 282 (but not the only artist --- sorry, Pell Mell)
All of that dubious history stuff aside, Tommy's been one of the most important pop songwriters of the last 30 years, and if his brush with near-fame is very far in the rear view mirror, that's no reflection on the quality and depth of his work over that time. This May, we're thrilled to make his very first solo album, 'Strange Alliance' available again on vinyl for the first time in many years. Originally issued by Avenue Records in 1982, 'Strange Alliance' might sound like a rock album from that era, but much like the rest of Keene's catalog, it begs the question why it wasn't considered a classic at the time.
Our limited edition reissue was remastered by Jason Ward at Chicago Mastering Service and includes two songs that never appeared on the original Avenue LP, "Nothing Is Gray" and "Stuck On A Ship".
100 copies are on clear vinyl, the rest on black.