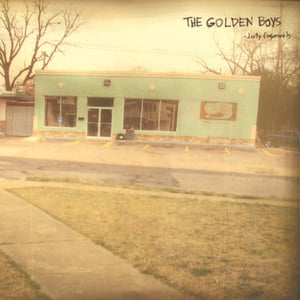 $

13.00
SHIPS ON OR BEFORE MARCH 20, 2012.
a NY journalist some years ago suggested an unkempt Minneapolis band --- can't remember their name, the Replaceables? The Lunchables? --- was "the CCR / MC5 hybrid we've all been waiting for".
It was an interesting statement, but with hindsight, it's pretty confusing. I've heard Elliot Easton's work with CCR, and while technically a-ok, I'm not sure it's really a seminal influence, either. Did I mention I'm having some longterm memory loss issues?
Anyhow, back to the matter at hand. The long-awaited 5th album by The Golden Boys (Austin, TX) and the first since 2009's Mercury Music Prize-winning 'Electric Wolfman' is their greatest to date and perhaps the first of their full-lengths to accurately transfer the multi-dimensional insanity of their live shows to a home/car/jogging format. Skillfully documented by engineer Mike Vasquez (whose hands are all over The Flesh Lights' recent 'Muscle Pop'), 'Dirty Fingernails' is the rock'n'roll album for persons who long ago gave up on that sort of thing (or conversely, for the few of you that still give a shit -- take your pick)
out of the initial pressing, 100 copies are on clear vinyl, 100 on lavender. All copies include a download code.
TheGoldenBoys-California by 12XUAustin
Availability
clear vinyl (150gr) - 0% in stock

Sold Out

lavender vinyl (150gr) - 0% in stock

Sold Out

black vinyl (150gr) - 89% in stock