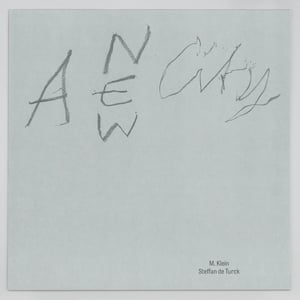 $

25.00
A New City' is a collaborative album by Dutch sound artists M. Klein and Steffan de Turck. Field recordings and keyboards come together in two engaging sound collages. Diaristic everyday fragments are sequenced and layered to tell a story that remains just out of reach. There is a dream logic going on where things look oddly familiar but the proportions are not right. Things move either too slow or too fast. Overly familiar sounds like wind, rain, traffic and humming air conditioning units pass by. Simple but surprisingly melodic keyboard chords suggest a part of a song played over and over again, like a memory barely remembered but still felt.
Cities' histories - Cities are strange
historic time collages, merging layers of the
past with the now. When you walk through a
city, you might pass by 650-year-old Middle
Ages buildings. 70-year-old Modernist
buildings and construction works of new
buildings. Walking through cities is like
walking through all these timezones in one
moment.
A very small, highly specific and initmate
moment you can have in a space
Is sitting in an armchair at 4 p.m. drinking
a cup of coffee, reading the newspaper, and
then a ray of sunlight falls onto your forehead.'
- Bernice Nauta
from text archive, 2009-2021
Steffan de Turck: field recordings, montage
Michiel Klein: keyboards, montage
edition of 300