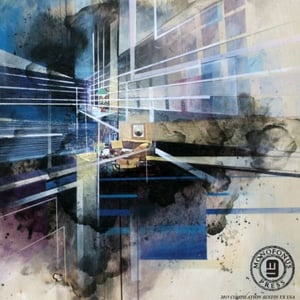 $

9.00 - On Sale
an exceptional, wide-ranging look at what's up in non-sucky Austin music circa 2015 from the city's tireless supporters of cool avant culture, Monofonus Press. In addition to the recorded debut of Cruddy-spinoff Empty Markets (12XU LP coming down the pike), there's unreleased stuff from such heavyweights as Spray Paint, Breakout, Ghetto Ghouls, Hidden Ritual, Aunt's Analog, Massagenist (check your OBN III's/Dikes Of Holland family trees, Pete Frame) and more, more more in the midnight hour as Billy Idol once said so eloquently. I'd say this album pisses all over either of the Austin comps 12XU is responsible for, except that's literally not the case. You don't want albums to be pissing in your pristine new condo.
blurbage courtesy Monofonus Press :
"It seems like most American cities with vibrant music scenes are becoming too expensive for working class bands to afford to actually live in them. It's tiresome and well documented. It's not a new problem for artists. We Jam By Condos is the title of this LP compilation of Austin, TX underground bands. The title is relevant to the landscape, literally. All of these tracks are exclusive to this compilation."
"We are spoiled in Austin in terms of the quality of punk rock bands, and we've tried to present a variety of it here as best we could. Ghetto Ghouls, Spray Paint, Massageinist, Empty Markets, and Breakout could easily be seen on the same show in this town for $5 at Hotel Vegas, Beerland, Red 7, or Mohawk. Still guitar-based but weirder and harder to pigeonhole would be Soft Healer and Hidden Ritual who provide a smoother side of the scene."
"Over the past few years there has been a growing number of truly world class electronic-leaning bands. A big ol' hat tip is due to the work Holodeck Records is doing. SURVIVE and Troller are two of our favorites and we are happy to have them both on this."
"With Aunt's Analog we've only briefly touched on the vibrant noise scene that is in and of itself worthy of multiple compilations. The Austin Noise comps on Instincto Records are a great place to start. Run by Matt LaComette (Aunt's Analog) since 2001. From free jazz to acid damaged disco Shit and Shine have been releasing non stop critically acclaimed albums for many years now and Craig Clouse brings the heat once again."
"It's impossible to present all of the bands we love that live here on one single LP. We've excluded bands already featured on the excellent Casual Victim Pile I & II, and also Bring Beer compilations. Those should be checked out if you like what you hear!"
"A big thanks is due to Ian Rundell who recorded five of these tracks and also drums for Ghetto Ghouls.
Experience this stuff before it gets paved over."
Availability
black vinyl LP - 70% in stock