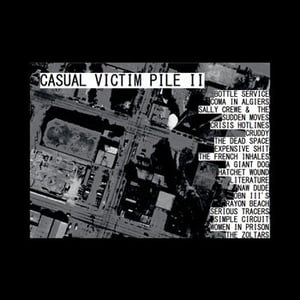 $

10.00
an 18-band, all-Austin compilation and a sequel to one of the worst-sellers in the history of Matador Records. References to "the Red River scene" and "Beerland bands" are generally made by the mentally challenged, the weak-willed and/or persons who already got their copies for free. Comes with a download code coupon.
OBN III's
Cruddy
Rayon Beach
Women In Prison
Naw Dude
Simple Circuit
Hatchet Wound
Crisis Hotlines
Literature
Sally Crewe & The Sudden Moves
A Giant Dog
The Dead Space
Serious Tracers
The French Inhales
Bottle Service
The Zoltars
Coma In Algiers
Expensive Shit
6 of the above feature one or more alumni from the 2010 Matador Records 'Casual Victim Pile' 2XLP/CD compilation but perhaps of greater interest is that several have either released new records in the past few months (Cruddy, Simple Circuit, Hatchet Wound, Crisis Hotlines, Literature, A Giant Dog, The Dead Space, Serious Tracers, The Zoltars) or have something ready to roll in 2011 (OBN III's, Rayon Beach, Women In Prison, A Giant Dog).
Availability
180 gm white vinyl (ltd.) - 12% in stock

140 gm black vinyl (ltd.) - 99% in stock