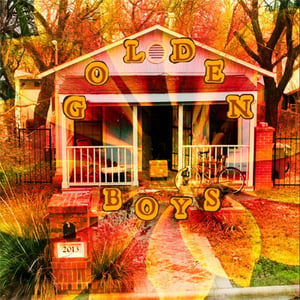 $

12.00
German pressing of the Golden Boys' 2007 album previously issued by Hook Or Crook & Emperor Jones in the USA.
every couple years or so someone comes along and bestows the "High Lonesome" sound upon themselves. Most times more than not such attempts at southwestern sound invocation fall a way bit short of the mark. More emulation than assimilation. More play acting than real living. The Golden Boys call the Austin, Tx area home and have a sort of down home sound but they ain't gonna associate themselves with such silly handles. Nope, if you were to use such a term to describe them the high would be alluding to drunk & stoned mood the sound is saturated with. The lonesome part? Well, there's some heartache songs and there's some kiss off songs here too. Someone's gonna be lonesome because of it.
The five songs each from Matt and Wes, two from Nathan and one song acquired by the band from a regional craftsman Sid St.Onge all mesh and weave into not a tribute but a celebration of sounds, moods and feeling that is most likely inherent to their DNA. The live and loose like their sitting/standing/falling over in a room with a couple a mic's placed in the sweet spots recording is the only way the ramble tamble shamble that the Golden Boys make should be captured.
Matt's "Yankee Dollar" starts things off like a hoedown on magic mushrooms with an austere yet trippy guitar line and slurred southern accents hoot and hollerin' about the end of the work day and things that Coca-Cola help go down the throat a little smoother. The Wes penned "Bongo's Bongo's Bongo's" are like the demo's of some dude who could've wrote a ton of hits in the mid 60's if they were unearthed before and the unworldly noise that comes out of nowhere didn't throw it off it's tracks.
"Friday Night/Sunday Morning/What Happens In Between" is the question asks "Remember Georgia" and the dark folk-rock riding into Neil and Crazy Horse territory with a harpsichord and feedback adornments answer the song gives probably won't cheer ya up but it's intention of pensiveness is much more convincing here that 90% of the stuff that snores like Ryan Adams (the one that somehow keeps a major label deal even though he insists on releasing two or three lackluster albums a year that even his most loyal of fans yawn about and don't even drop coin on anymore. Not the one from Midwest Beat...who are deserving of a deal) constantly try to take stabs at. The high strung and jangle clanged "Never Wanna See You Again" says what most everyone thinks (well, not EVERYone but any one who knows what bullshit is loaded into the statement) when someone breaks up with you but assures "We'll still be friends". "Oohh Girl" it's like Matt takes the couple of really good songs from John Lennon's first few post Beatles break up solo albums, folds them up, puts them inside his hat, drinks and sweats all day then unfolds them just to see what happens. Some few horns are added to the proceedings to just to see what they'll do to the fermentation process. It's a pungent blend that burns and soothes. Then some kinda mutation of the Sir Douglas Quintet's "Texas Tornado" album, double vision and some old timey instruments like mandolin and Ralph White of Bad Livers fame on fiddle as well as the trumpet we heard earlier in the trip on the melodic, noisy and swirly (and song that has been stuck in my head from this album since the first time I gave the album a listen) "La La Birdie".
Accordions (or is that a pump organ...I've had a couple drinks myself this evening but I'm guessing it's one or the other) provide the feeling of a creepy gypsy carnival for Nathan's first song writing contribution on the album "Babushka". It's followed up with "Pretty Good Lookin' To Me", another revisit to kind of thing Doug Sahm and Augie Meyers did so good then accelerated thanks to a couple of white lines, a song all about the dumbshit things guys will do while trying to impress some cute girl.
"Billy Wore A Dress" is like "They Saved Hitler's Cock" and "Annette's Got The Hits" taken down some back road and given a shotgun. I would consider Sid St. Onge's "Dolly's Waltz" (where the now departed from the band James Arthur bangs the drums) the most "hard country" tune on the album but I think most purists would get a little bummed because the band doesn't try to pretend they're not half in the bag when they really are. After all..."that ain't professional! That's why Hank got kicked out of the Opry." Yeah, well...fuck those types. When I wanna hear a melancholy waltz of booziness I want something like this-not some queerbait in a designer cowboy hat and a Hollywood better half. On "Yeah, I Wanna Know" it sounds as if Wes spent the day listening to Replacements bootlegs from around the time "Hootenanny" came out along with a couple of Sonic Youth records then wondered "Ya know what this stuff needs? Some fucked up horn section" then he goes ahead and does it AND does it better than if Westerberg or Thurston Moore came up with the idea..."Lime Disease" is a mood piece that gets all disturbed courtesy of Nathan. "If I Can't Hold You In My Arms" caps off the album with it's sorta hillbilly/sorta garage smoldering tale of loneliness (which takes us back to the first paragraph I wrote here.)
I know a guy who claims to be the biggest fan of the new traditionalists of country music in the entire county that doesn't understand why I ask him questions like "You DON'T see the total pretentiousness in Hank III" then tries to change the conversation to something like his favorite Old 97's song. No, he's not the type that would get the Golden Boys because they've never been on the cover of No Depression (but if they were I'm sure he'd most likely change his tune). "Whiskey Flower" is not an album for those types but if you like a "roots" sound where the roots have been pulled and transplanted in somewhat different soil and allowed to grow a bit wild ya might just find this the best 100% completely "American music" sounding rock-n-roll of the year (or maybe the past few even.) - Smashing Transistors