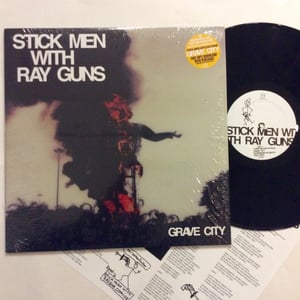 $

16.00
Holy shit! End Of An Ear done gone compiled every studio track ever recorded by Dallas' beyond-fucking-pivotal Stickmen With Ray Guns for one, never-before-on-one LP release. Either you already know of the gigantic shadow cast by Bobby Soxx, Clarke Blacker, Scott Elam and Bob Beeman or you're about to get schooled BIG TIME. Without question one of the most important pieces of Texas, nah U-S-A punk history ever committed to a full length.
"every single studio track that was ever recorded by Stick Men With Ray Guns along with the two live tracks (plus one bonus track) as originally released on the four compilations: A Texas Trip, Live at the Hot Klub, Cottage Cheese From the Lips of Death, and Tales From the Edge Volumes 5 & 6. Each track has been restored and remastered for this release by Jack Control at Enormous Door Mastering in Austin, Texas."
includes download code
We only have a few of these so don't snooze.