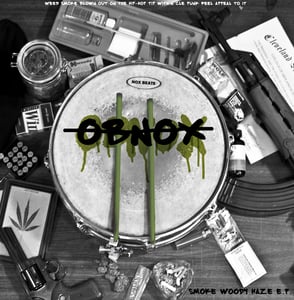 $

12.50
(SHIPS ON OR BEFORE January 22, 2012)
The only thing I hate more than 12" EP's are 10" EP's. Or failing that, someone calling it a "maxi-single". Why not just put my cock in a vice?
HOWEVER, the 8-song extended player in question, 'Smoke Woody Haze' (a salute of sorts from one Ohio icon to another) is not only a musical left turn of sorts for Bim Thomas, but was also, apparently, commissioned by another label that due to circumstances beyond our control (well, mine, at least --- I can't speak for Bim) is no longer involved in the project. Trust me, this soap opera shit is way less interesting than the musical contents. Not counting the 'I'm Bleeding Now' reissue, this makes 5 amazing Obnox records in 2012, and as such, Bim would be a prime candidate for Time's "Man Of The Year" if the award hadn't already been locked up by whoever invented The Chip Clip (condolences to whoever invented the clothespin ---I think you were totally screwed).
Bim says the next one's gonna be a double LP. Bob Pollard's on the phone --- something about Bim being "too prolific".