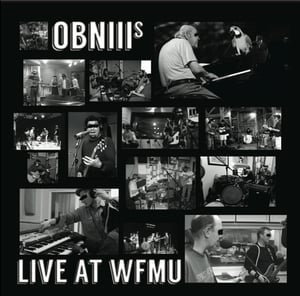 $

13.00
(SHIPS ON OR BEFORE MAY 28, 2013)
During the OBN III's first visit to the East Coast last June, they stopped by Evan "Funk" Davies' WFMU program to perform selections from their 2 Tic Tac Totally studio albums, as well as weigh in on some of the more important social issues of the day. After the ensuing firestorm of angry phone calls and threats from the vaunted free-form radio station's financial benefactors, we have decided to delete those portions from this commercially available LP. To this day, i feel the band were being set up by Mr. Davies, and if being The Bill Grundy Of Jersey City is the kind of thing he's comfortable with, so be it.
Still, there's some consolation in the 11 songs recorded live, and it's a fair representation why some of us (radio dj's looking to make a name for themselves aside) expect nothing short of a global takeover from this Austin quintet sometime in the very near future.
we're not making very many of these and when they're gone, they're gone.
Availability
black vinyl 150 gr - 78% in stock