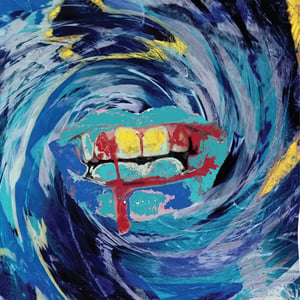 $

3.00 - On Sale
(SHIPS ON OR BEFORE JUNE 24, 2014)
Would it be fair to say Austin's These Are Words decided to lay down a gauntlet of one sort or another when they changed their name to the decidedly more malevolent GHETTO GHOULS —- culled from the old lady-stomping street gang in "The Exterminator" (1980, dir - James Glickenhaus). Actually, it would be a colossal reach, the sort persons like yourself make on a daily basis, I reckon.


Fresh off a widely acclaimed debut LP for Austin's Monofonus Press, Ghetto Ghouls have been likened to such regional predecessors as Bobby Soxx or The Dicks, but there's echoes of X-Blank-X or 'Live At The Witch Trails'-era Fall in their staggery swagger (especially if you play an old Fall record at the bottom of a well while listening to Ghetto Ghouls up above). In a town where the best gigs often straddle the line between parties and disasters, a ridiculously high percentage of those shows seem to occur with this quartet right in the middle of the action. 


This 7" couples a pair of songs from the S/T LP sessions that either represent 12XU getting the cream of the crop or the goddamn leftovers. Think very carefully before you decide which of those two scenarios is most likely, because I've got a looooooong fucking memory.


RIYL : getting beer spilled on you, people not apologizing for spilling beer. 

First 100 on blue vinyl
Availability
blue vinyl - 81% in stock

black vinyl - 100% in stock