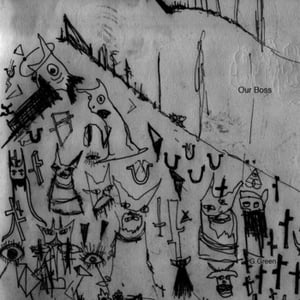 $

5.50
Four new songs from Sacramento, CA's G.Green, the 2nd release from the new NYC label, A Wicked Company. Their spiel goes something like this :
✮A Wicked Company✮ officially welcomes Sacto diamond skronk enthusiasts and enchanted booglarizers ✮G. GREEN✮ to our 2013 seating of sonic combustible art!
Diamonds, you ask? ♢Noise pop diamonds, pal♢
Although the past thirty years have witnessed enough sidewayz gonzo pop excursions to construct a honey bridge from Twisted Village to DJ Rick's secret cabin in the Sierra Nevada, ✮G. GREEN✮ slash forward anew with all the restless verve of unsullied IPU emissaries, eager to anoint with blood soaked homilies of consecrated pop burn. We've not heard anything quite like this.
A Wicked Company's first live encounter with ✮G. GREEN✮ was in the company of a couple hundred Brooklyn 285ers just ten days after Hurricane Sandy ripped the area a new one. Their set was a venue enforced quicky that left us pining for more, especially since their summer 2012 mt.st.mtn gem 'Crap Culture' and 12XU dizbuster 'Funny Insurance' 7" had yet to wear out their welcome. We chatted up newish guitarist Mad Mike Morales afterward, all the while staring at the Beefheart pin adorning his vest. It was clear the G. Greenz were on some other level.
Several months later and here we are. This 'Our Boss' extended play highlights a future classic from the future classic 'U.S.A. Don't Run', plus three killer kandy korns. Yes, they sound so good you want to eat 'em. One track is called "Soap", and it capably serves as a wonked alternate theme to the 70's sitcom that launched Billy Crystal's career. It's totally whirlybird.
Their sound? Dapper newbies Simi Sohota and Mad Mike erect gulchered dormers for Andrew Henderson's skewed slay track squelch. For his part, Andrew conjures slanted broadsides of suburban kissypoo blood rituals, sourced from some tipped recess of the soul; which is to say the guy writes potent songs of longing and weirdosity. If that's not enough, then brace yourself for Liz Lile's perverse trigger cut glint, unsanish in her freaky octopoid looseness. She steers the whole endeavor toward a flumed rendezvous with ¡kablam!
Only 300, and when they're gone, they're so gone.
"Nothing is duller than a progression of common chords. One wants some contrast, which breaks up the clear white light and makes it iridescent." Denis Diderot, Rameau's Nephew (1762)
Availability
black vinyl - 13% in stock