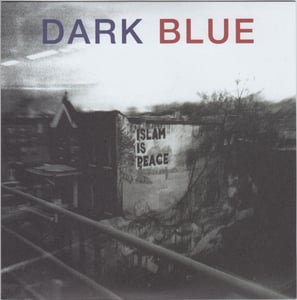 $

6.00
(OUT JANUARY 15, 2016 : mail order now shipping)
After three releases in 2014, Philadelphia's Dark Blue return with two songs about blue collar depression in a changing Philadelphian landscape for their debut 7″ on 12XU. While the previous releases hinted at the pop tendencies of Dark Blue, this new single finally embraces them fully.
A-side "Vicious Romance" finds leader John Sharkey III coming to grips with letting go of an unsustainable dream. Whether that dream be romantic love , or the idea the "romantic" dream a certain country paints only to instead cause pain, grief, and bloodshed to Palestinians and Arab Jews. It's a love song in the highest order and with all great love songs, it stays in your head and leaves you breathless.
Flip-side "Delco Runts" is a love (or hate) letter to Delaware County. As Sharkey explains, "It's a place that toughens you fast. Far harder to succeed than Philadelphia proper. The peril is real but unassuming to the initiated. It's crushed your chances of being a real person before you even know it." If you ever wondered what it might be like if Oasis, Discharge, and John Cale got pissed and started a band together, "Delco Runts" is your answer.
Dark Blue is the sound of unrelenting confidence in a bleak world. We are lucky to have them to remind us that we can still make it through it all.
Availability
black vinyl 7" - 80% in stock