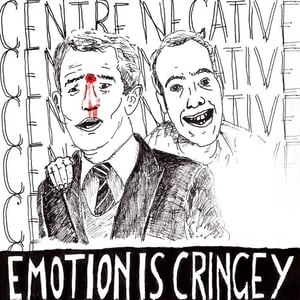 $

10.00 - On Sale
Played over the lo-fi jangle of Michael McClelland's guitar, a female voice (that sounds straight off the 6 o'clock news), introduces the album. Trying to intimidate enemies, win friends, find a girlfriend, call out the terrible New Zealand government and the masculine culture that it embodies are but a few of the reasons, we are told, why 'Emotion is Cringey' was created.
From that point on you are treated to 15 more songs of strange pop beauty.
Recorded at Thinkt Studios (McClelland's flat), on a combination of cassette four track and reel to reel, 'Emotion is Cringey' is the album that New Zealand needs right now. It sounds at times as though McClelland (who is Center Negative) could be a crazy skeptic, but the fact that many other young (and increasingly old) people feel so disenfranchised with what is happening in New Zealand at the moment, McClelland comes across as more crazy prophet than crazy skeptic.
As well as the brilliantly penned originals ((Secretly He's a Racist), Change Is The Most Sincere Kind Of Apology, Profitable And Desperate), there is also a fantastic cover of Chris Knox's Under The Influence. Throughout 'Emotion is Cringey', McClelland isn't afraid to change from jangle pop to all out strangeness (I Didn't Appreciate Myself), which takes the listener on a great ride of sound, and shows that he shouldn't be cast as just another New Zealand jangle pop musician.
Availability
black vinyl LP - 33% in stock